Data updated to 31/12/2021
A continuous growth over time should be measured in numbers. We have chosen the most representative indicators to illustrate the results of our constant commitment, which has allowed us to become one of the world's leading operators in the satellite telematics sector.
Group-level employees (average value in 2021)
Municipalities connected by smart transport systems (Smart Cities)
Trees planted in the ViasatWoods in Madagascar before 2022
Vehicles connected between Insurtech, Fleet, and Smart Connect
Explore Viasat around the world
Italy
Belgium
France
Great Britain
Poland
Romania
Spain
Portugal
Italy
The company, an Italian leader, redefines safety and security with advanced satellite and IoT solutions. By seamlessly integrating telematics technologies, we ensure unparalleled assistance for vehicles and occupants. With 30+ years in LBS, Viasat provides raw data and IoT services, catering to Insurtech and Fleet Management sectors. Safety is a passion and fundamental right. The holistic suite offers real-time monitoring, proactive assistance, and swift response to threats. Experience innovation, reliability, and excellence with Viasat S.p.A.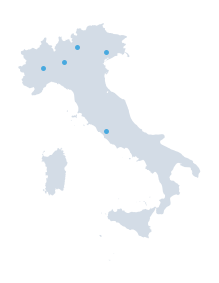 Belgium
France
Great Britain
Poland
Romania
Spain
Portugal
Wherever you are, Viasat is your partner
Viasat was born as a specialized operator in the provision of Satellite Telematics services in the automotive sector. In the first half of 2023, Targa Telematics finalized the acquisition of Viasat Group, an Italian company regarded as a center of excellence in the field of technology applied to the automotive industry, which has established a reputation over the years as one of Europe's leading providers of satellite and IoT info-telematics services and solutions for the safety and security of people, vehicles and goods.
Corporate mobility increasingly relies on long-term rental as its main formula and a market, that of fleets, that is increasingly sustainable and connected….
There will be exponential growth in the next few years for "connected cars." According to an analysis conducted by the Autopromotec Observatory, based…
In Italy, auto insurance is becoming more expensive, and this trend is seen across the country. According to the latest report released by…